It wasn't fun to watch the revenue of their subscription business reduce over months. Why were they going out of business despite building organic traffic, loyal community, raving reviews, and producing high-quality ballet-based fitness workout videos? Find out below.
The client
To follow this case study, you first need to know about two things
Birmingham Royal Ballet is one among the top five prestigious ballet companies in the UK [1].
The West End theatre is the group of mainstream professional theatres in the West End of London. West End theatre is usually considered to represent the highest level of commercial theatre in the English-speaking world [2].
Alright now, read on…
Two girls – friends from the age of 11, started training full-time at one of the world's top ballet schools.
As their friendship grew, so did their careers…
One of them went on to join the ranks among Birmingham Royal Ballet's (as mentioned above) most recognized and respected First Soloists, dancing in productions all over the world.
The other landed the role of Val in the Broadway hit 'A Chorus Line' at just 17 years old. She embarked on a successful West End career (again, from the prev. section), dancing for many of the most acclaimed choreographers and theatre directors.
The business
Later in life, they both co-founded one of the world's best online ballet-based fitness workout companies – Sleek Technique (now Sleek Ballet Fitness).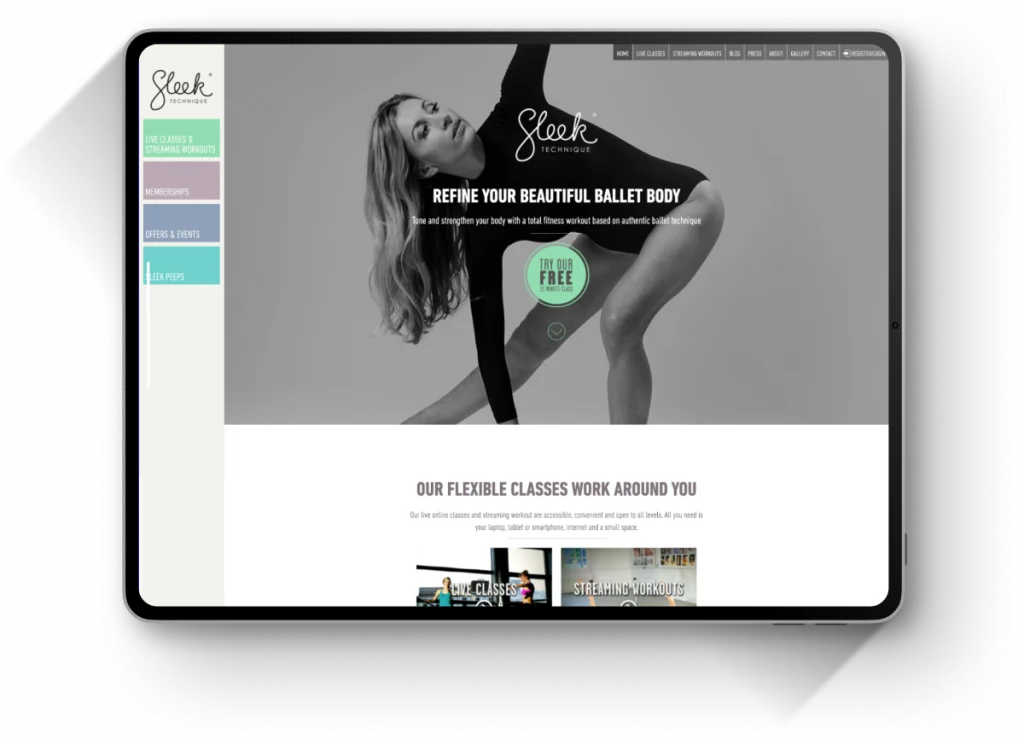 At Sleek, they offered an online membership (monthly or yearly) to access their
Library of on-demand workouts
Recordings of LIVE sessions
They also offered LIVE sessions (max 4-6 people) for premium membership/one-time classes. Participants needed cameras so the trainer can see them.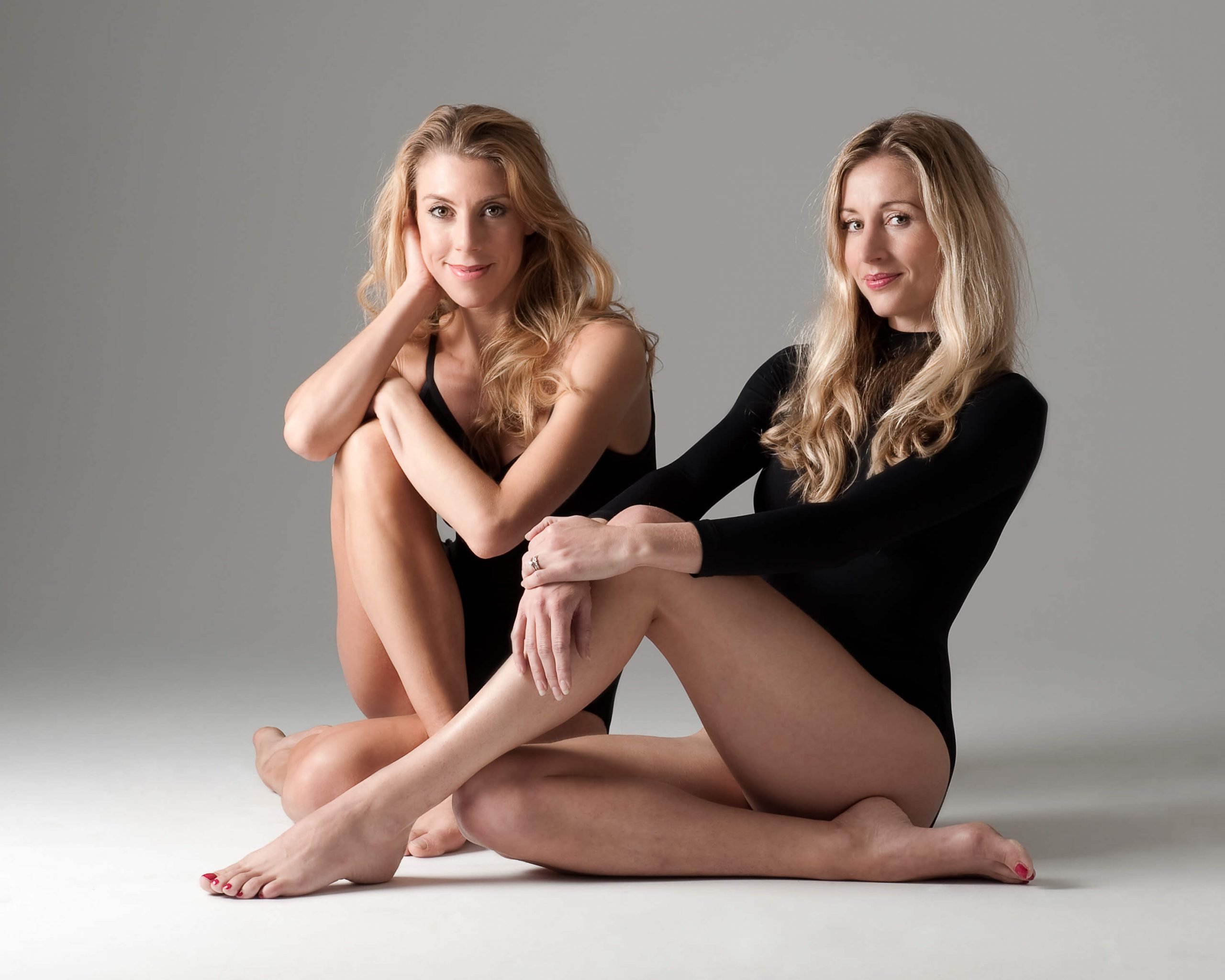 Customers, community, fans
When I first saw the community around Sleek, I was blown away! They were not just customers/members rather being a 'Sleeker' was a part of who they were.
They were a close-knit online community of fan-members who loved and cherished dancing as a form of fitness. And they gave raving reviews/testimonials for the workouts.
To sum it up, they had:
A strong brand and a story behind it
A loyal community of fan-customer base.
Raving reviews from happy members
So what could go wrong?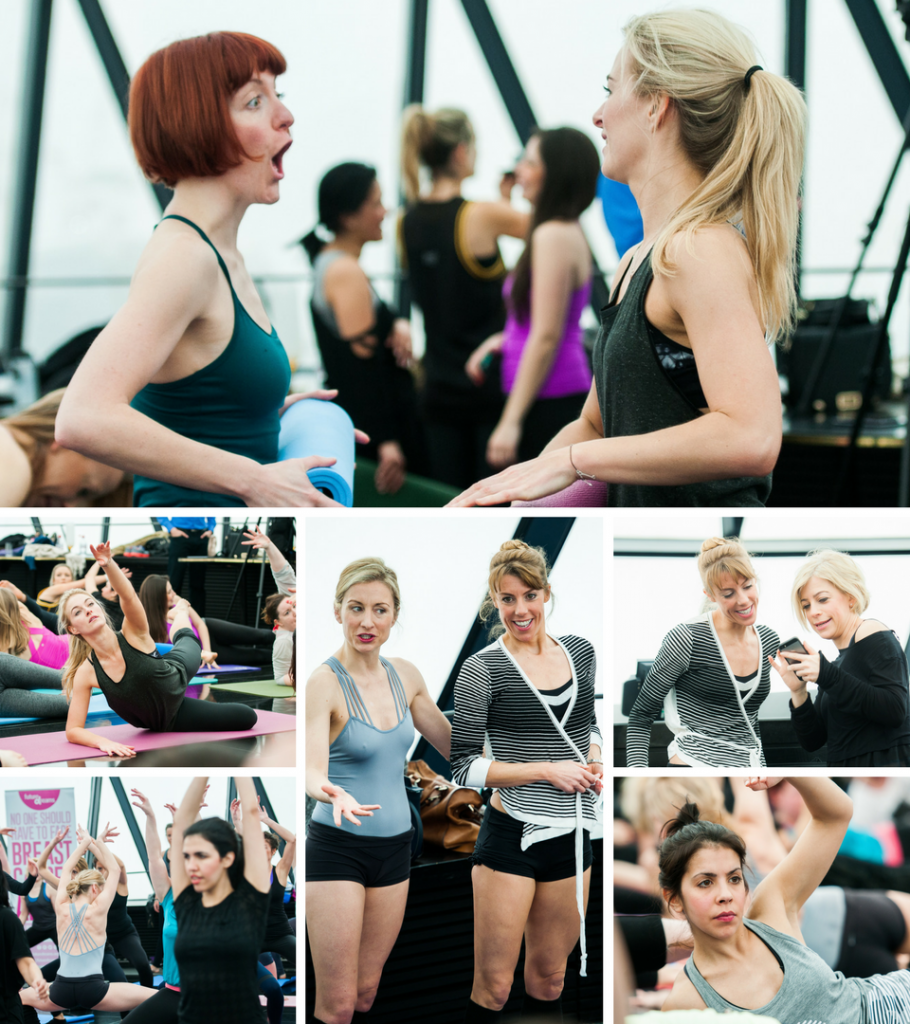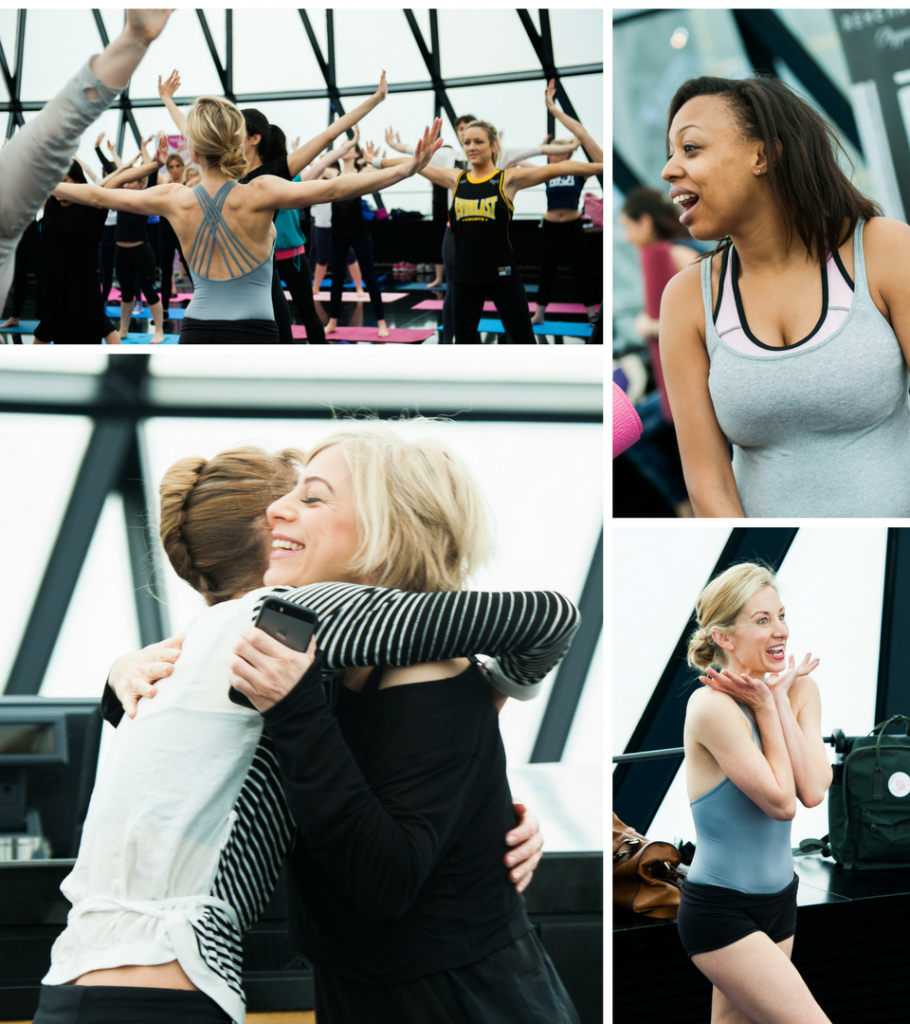 The problem
They weren't growing.
They were rather becoming smaller.
Their revenue was slowly dropping monthly. The # of members who canceled their membership was higher than the # of people who joined as a new (paying) member.
Jargon-Speak: In terms of subscription business metrics, despite the long lifetime value and loyal community, their churn rate[3] was higher than the growth rate.
So eventually, albeit slowly, a membership business model will end up having no paying members if this continues.
But… given the quality of their program, raving reviews, the community around it, etc. How is this possible?
What was the initially proposed direction? (by the client)
So to solve the problem, to generate revenue, and attract new members, they wanted to pursue a new strategy with a few steps
Short-term
Reduce the price for existing membership levels
Add a new lower-priced membership.
Long-term
They wanted to start offering training + licensing programs for trainers and local boutique gyms who can be affiliated with their brand. And they expected this would also lead to:

More exposure + new members for their online membership.
A new revenue stream from licensing and training programs.
Cross-promotion with these local boutique gyms.
But… their existing website was not flexible enough for them to quickly make changes and test these strategies. It was built with Django by another agency with a good amount of custom code.
It was expensive to make changes.
At their stage, usually, businesses want to
Quickly test, release new offers/products/bundles
Experiment with pricing models to find the best.
Run marketing experiments to attract new members.
So they wanted a new website that allows them to easily execute such ideas fast (and help them grow).
And, the client's team had already mocked up a rough wireframe for a new homepage. It was based on a few of the popular mainstream online fitness platforms.
Why the initial direction wasn't probably the best?
When it comes to getting out of a tough situation, sometimes… our first instinct is to let ourselves be inspired by methods of other businesses that seem more successful.
Lowering prices might seem like a good strategy.
Because when all else fails and even if a few of your customers state the price as a reason for leaving, it can seem reasonable to lower the price.
And it does work in some situations.
But even if they did reduce the price, it might extend the lifetime period of their existing members, but increasing the total revenue per customer was a different thing.
Example: At $10/month, let's say the members on average stay for 10 months and that will equate to total revenue of 100$. If we then drop the price to $5/month, they need to stay for more than 20 months for the revenue situation to improve.
Of course, there were other expected results like:
An increase in new members signing up due to reduced prices.
Reactivation of members who canceled
New revenue from the lower priced membership.
Feedback
When we asked why the members canceled, we found out the problems they stated were similar to the following statements:
"I haven't used it much the last few weeks/months due to (lifestyle reason X)"
"It is a bit expensive for me to keep the subscription active even when I don't use it"
So the problem then sounded like just 'lack of usage'. And perhaps we should focus on member engagement and work on how to improve it.
DATA
But, when we looked into the data, we found the following:
While some customers didn't stay longer as members, some stayed long and loved being members for *years!*
Sometimes even 2+ years! They had a total of 93 paying members at the time they approached me. And they had even more before that.
At least among their 'core' members, there was no problem with engagement.
Again when we asked about such members, they said that once a member participates in a few LIVE sessions, there's a high chance they become a long-term member.
But their LIVE sessions are really small (max. 4-6 members) and highly interactive. It is hardly scalable if we expect everyone to go through a few LIVE sessions to develop an affinity towards the brand.
Full migration might not get a fast roi
And also, after our initial discovery phase, they realized moving their entire existing website would be more expensive than what they wanted to spend (at that time) and also that it might not get them the expected ROI (return-on-investment) quickly.
My assessment
So far, the assumption was that pricing (high, in their perception) was the problem why they weren't attracting new members.
But if pricing was a problem to attract new members, they wouldn't have so many existing members who also happily stayed paying members for a long time.
An important thing to note here is that their existing loyal members were attracted through multiple touchpoints, LIVE class participation, some manual efforts, and not exactly through 'scalable' or purely online methods.
Unless you are an industry professional or have taken some digital marketing courses yourself, you might completely overlook this fact!
And there's a whole world of people and disciplines behind this deceptively small area. There are marketing disciplines like copywriting, online marketing funnels, and website conversion optimization dedicated to improving conversions.
A conversion is a term used to denote any action that you want a website visitor to perform – making a purchase, filling a contact form, subscribing to a newsletter, downloading a free trial or demo, etc.
To me, it was apparent, that there was a BIG disconnect between their online presence and their offline/live activities.
First, I explained to them how in growing B2C companies like theirs scaling the revenue is possible only if they attracted leads/customers purely online.
Second, I showed how their current website has big gaps in terms of not answering questions a new visitor might have. (more on this below)
Third, I showed them how we can design a website to be as effective as their previous methods to convert a new visitor into a paying member (more on this below) without necessarily needing the LIVE participation.
And, our clients being smart entrepreneurs themselves grasped this immediately. So I proposed a new solution that could be faster & cheaper than moving an entire website, and yet has the potential to generate a higher and faster ROI.
The Solution
Instead of redesigning the entire website to just experiment with new prices, or provide new offerings, we do the following:
We keep the existing website for members' area (where paid members log in) and move it to a sub-domain.
And create a new mini-website on the main domain, which primarily has a marketing funnel presented in the form of a '14-Day Free Trial' to their workouts.
Setup proper redirections so we don't lose the SEO and traffic from search engines like Google.
To keep things simple, they won't need to log in. Instead, the whole thing could be designed as email automation with some basic content protection. Every day they get one email with a link to the workout they need to do for that day.
To encourage them to convert to a paying member, on the workout page, we show a countdown timer and a call-to-action to become a paying member.
The only thing they'd need to do is enter their name and email to start the trial.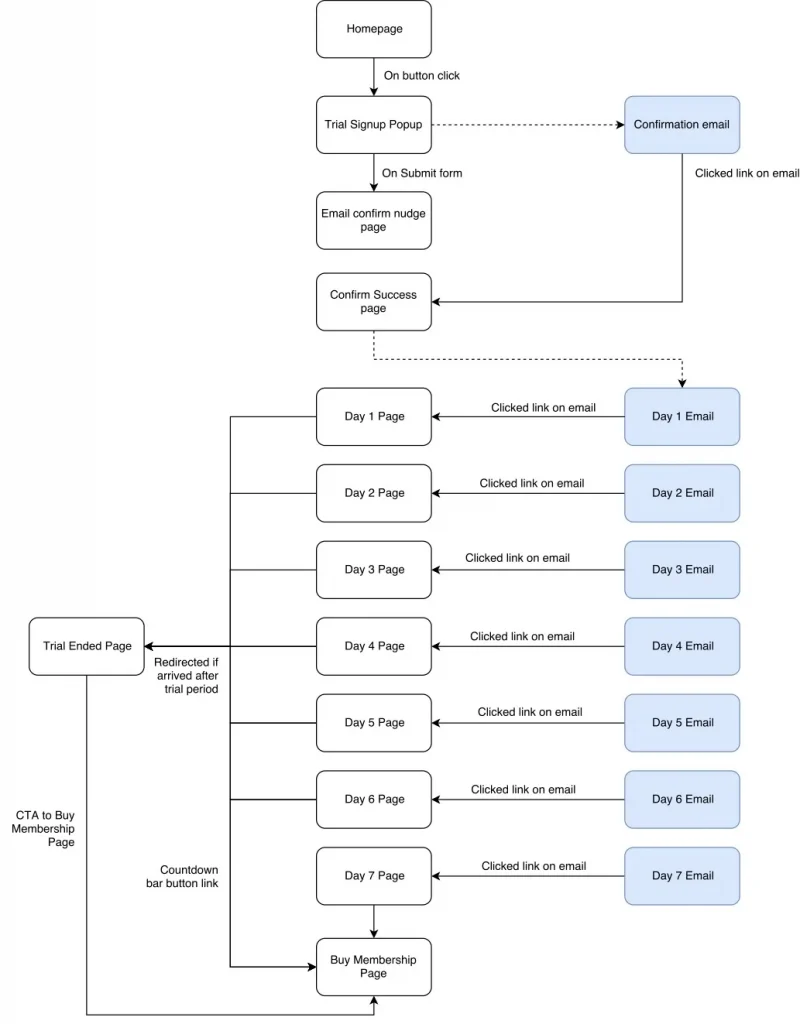 Why will it be effective?
A few reasons. I'll explain them one by one below.
Building a connection over time
Asking a visitor to become a paid member on their first website visit is like asking someone to marry on the first date. You already know it is absurd.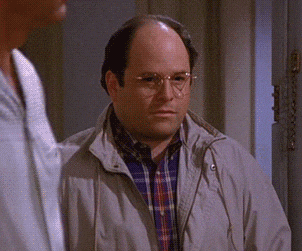 But often businesses expect visitors on their websites to take action just like that. Instead, having a marketing funnel is like having multiple dates and getting to know each other better over time.
Building Familiarity & comfort
Beyond the act of making a payment, just deciding to start a workout routine can be emotionally hard.
Having gone through a few fitness journies myself, I'm aware there could be other personal fears they need to deal with:
"What if I start and don't continue the habit?"
"Will I feel worse having taken a bad decision?"
"What if I don't have the willpower/motivation?"
"What if I don't like the workout?"
"What if it is too hard?"
"What if it doesn't work for me?"
And many many more… A lot of this can be alleviated by letting them try multiple workouts over a time period. They won't be burdened by these after the trial.
Building a fitness workout habit
This is my personal favorite.
They already stated that once someone takes a few LIVE classes they often become long-term fans. To me, that indicated the importance of helping them build a habit!
Of course, there's no replacement for the actual LIVE interaction experience.
But just assisting visitors in their journey to develop a fitness habit can do wonders. And having a notification from an email every day that gives you exactly one workout can take away the unnecessary anxiety of having to make choices.
Educating potential members
Many types of businesses have a need of educating their prospects before they can become their customers. A '14 day trial' has many opportunities to educate.
Analysing the existing website
Due to the existing website being built on custom code, and given the budget limitations, I couldn't spend time setting up a tracking system, studying existing visitor behavior in detail, and long-term conversion optimization plans. So I quickly got to work with what was available.
unclear data on online behavior
When asked about how their visitors behaved online, they had no insight into it. It was like a black box. All they knew was that
They had some numbers on google analytics to show they had visits
They saw people becoming paid members.
Revenue was decreasing due to long-term members cancelling their membership.
Traffic
They had good-quality backlinks from a few sources. They also had a YouTube channel with some cross-promotion from highly popular sources and links from popular media and news sources.
And as per data, they had a significant % of organic search traffic. And segmenting it by new users showed a clear stream of new visitors discovering their brand every day.
This was the traffic that we could test with (without having to spend money on ads)
But, problem was that the % of people who visited their website for the first time and left without taking the desired action (watching the free 15 min class video) was very high.
Any reduction to this % could translate to a direct increase in recurring revenue.
This gave me more hope that I could optimize the website and increase signups (assuming they belong to a similar audience like their existing members.)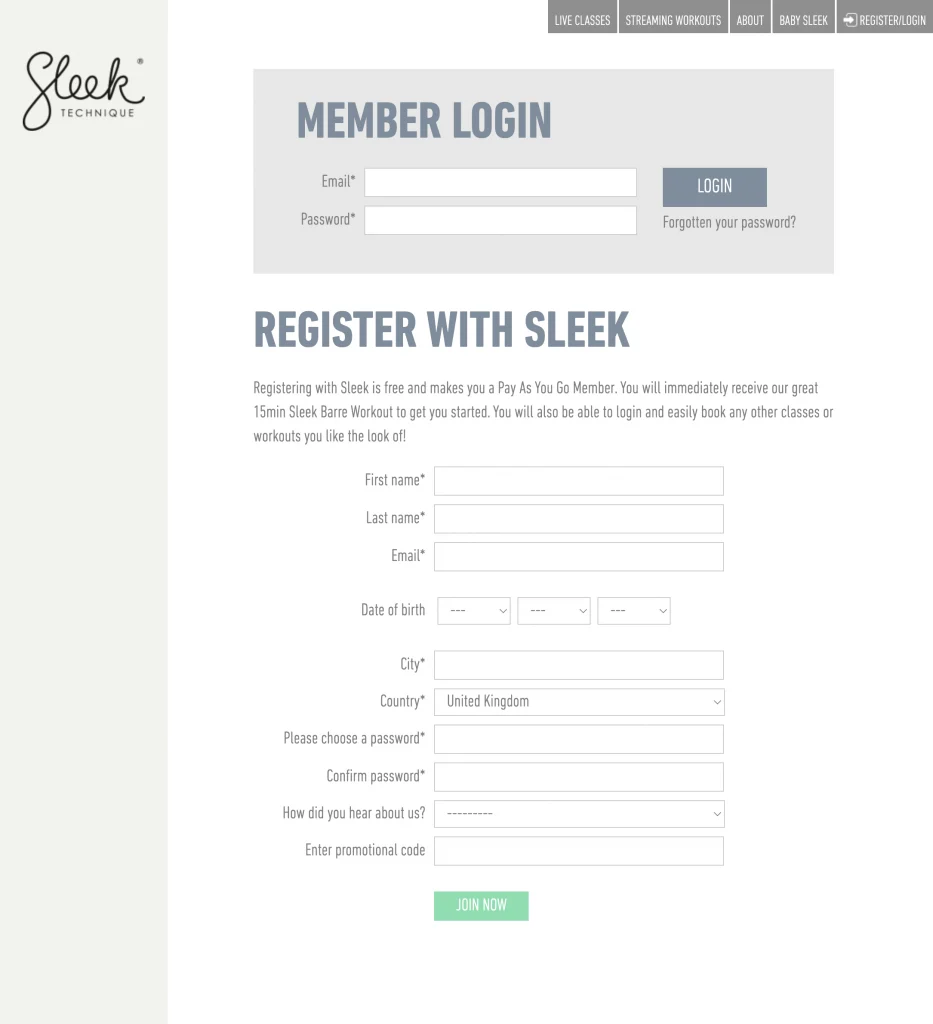 conversion problems (not in any order of importance)
Doesn't explain the benefits to the visitor
Doesn't explain competitive advantage.
Missing an emotional connection.
Missing social proof (like testimonials, awards, certifications, media mentions)
Bland 'above-the-fold' CTA (call-to-action) -> 'Try our free 15 minute class'
CTA takes you to a generic signup page with a long scary form.
Copywriting doesn't capture the warm, charming personality of the founders.
Copywriting doesn't capture the essence of the brand.
Business focused website (instead of being customer/visitor focused)
opportunities for a visitor focused website.
A new visitor usually has some of the following concerns in their head:
Is it worth spending my time exploring this page (or site)?
What's in it for me?
Is this workout right for me?
What if I have problem X, will this still work?
Have other people used it, had success, and still actively used it?
How does it compare with other options I'm exploring right now?
Designing, writing content to answer these questions usually increases conversions.
Customer persona and research
And finally, to cross-verify these with data, we worked with the clients to gather information and feedback from their existing long-term members. The data gathered supported our hypothesis strongly.
The new website + funnel
The previous website was focused mostly on aesthetics. We proposed a conversion-focused design that didn't compromise the aesthetic aspect.
And to do a new launch, they preferred having a completely new look and feel. Keeping all of this in mind, we designed a new conversion-focused homepage.

Key decisions when designing the 14-day funnel
Intentionally provide them just one workout per day via email, instead of throwing an entire library of 14 videos.
Order them for a beginner as that was the segment in focus at the time.
Collect feedback in between and encourage them to respond to emails.
Finally, present them with a 'timed offer'.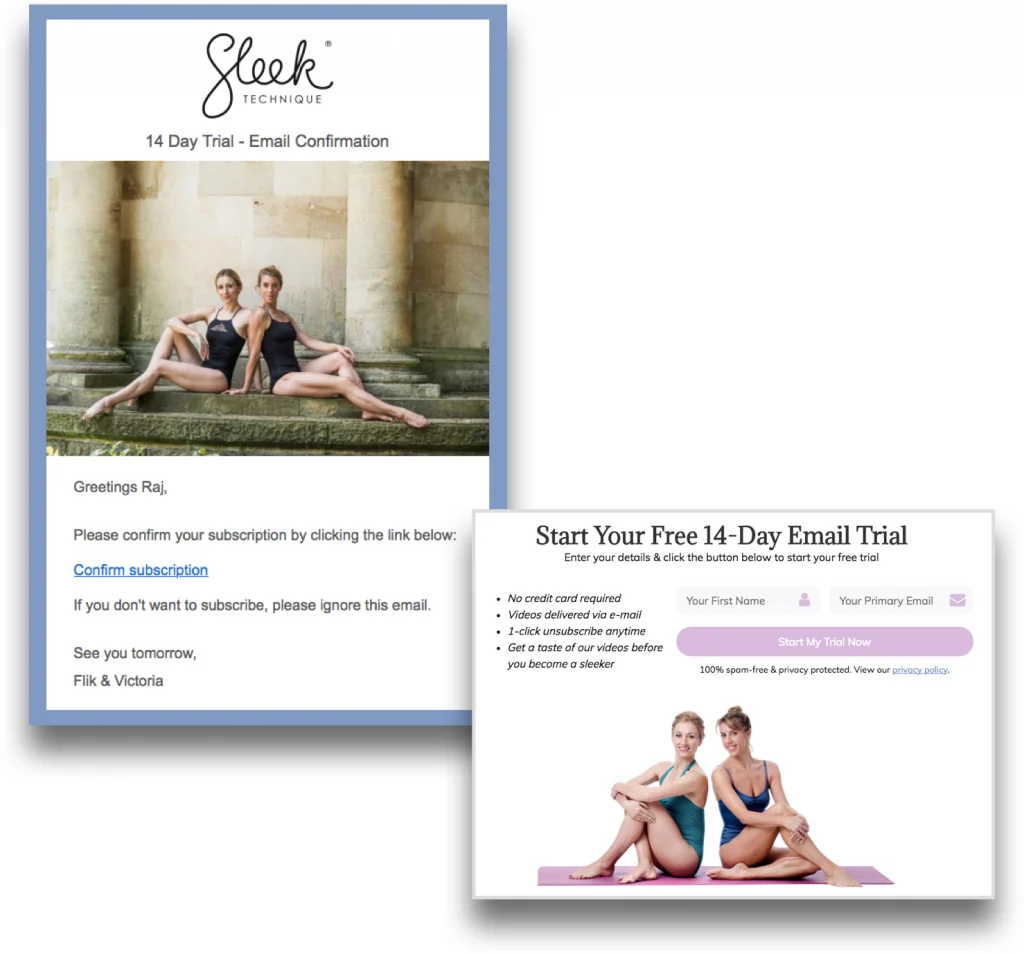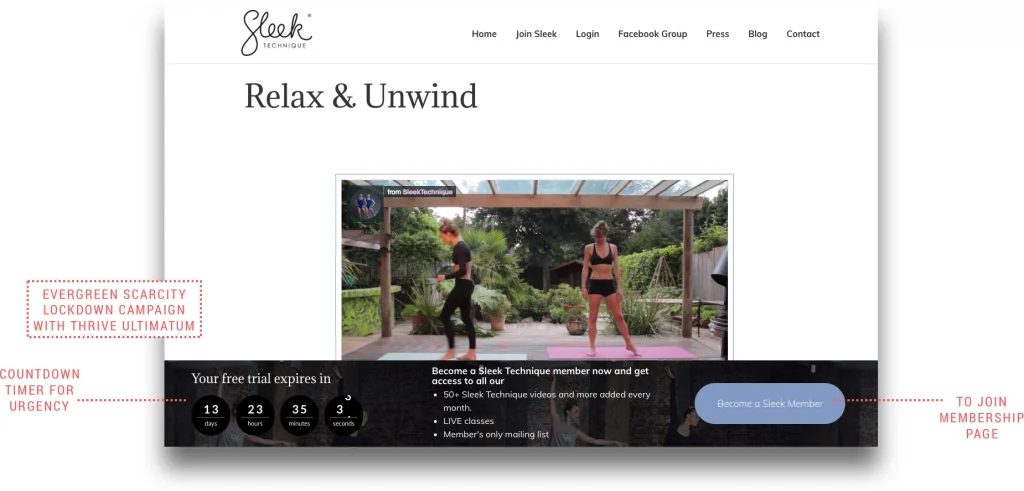 Results/Testimonial
We launched on January 1, 2018, to capitalize on the new-year fitness-resolution-takers segment and had a successful start. When measured after a few months the 14-day campaign emails have an open rate of about 68% and a click rate of above 45%.
The marketing automation has been converting visitors into high-quality leads and then into paying members. Their member base is growing month over month.
Before: When we started working, their dance-based fitness membership site was on a downward curve with 93 streaming members.
After: Six months after the new funnel was launched, The business is on an upward growth curve with 206 members. All this with zero spending on ads!
Raj is a brilliant ideas man. He knows his line of work so well and has such a deep understanding of consumer behaviour online that he can develop a site and strategies for almost any eventuality that not only engaged customers but keeps them engaged. In our experience, he brought brilliant ideas to the table and knows so much about this ever changing market that he is able to refresh the way we gathered new leads and pursued our customers to great effect. If I were to highlight an area we found challenging, it was timing of delivery (we were very often behind dates we had set for completing tasks) and regularity of communication as Raj travels a lot while working. To sum up, 'a brilliant, energetic, bright spark and a good person to know in the world but allow for a good time contingency.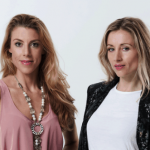 Flik Swan and Victoria Marr
Founders of Sleek Technique/Sleek Ballet Fitness
References: