I Help Online Course Creators Go From Making 100K$ to 1M$ Yearly.
If you're an online course creator who has crossed 100K$ in yearly sales, congrats!
I'm here to assist you with a 10x growth towards your 1st million$.
You're busy, juggling many things. You see that there's way too many things to do – focusing on course creation, running marketing campaigns, keeping up with competitors, expanding your team, managing your community, even perhaps the occasional support ticket outbreaks!
You didn't reach 100K in sales without loads of trial & error. You had to learn and try out different things on the way.
But, moving forward you cannot be doing random growth hacking activities. It may have worked until now, but you're probably already realising you need a different approach to take it to the next level.
You want to spend your time on the high-value activities in a strategic and streamlined way.
I'm here to show you how.
These are my goals for you
Free up your time and organise it so you can focus on more important activities.
Switch gears in your marketing activities with my wide range of skills.
Bring insights from my experience working with people who have already travelled your path
Have a much better quality of life, spend time with your loved ones without having to burn the midnight oil often.
Present you with a tailored set of high-ROI marketing/product/pricing tactics based on your journey and business that you can choose to focus on
Become a wildcard in your personal toolset that helps solve problems involving multiple disciplines like tech/engineering, design, marketing and business.
Curious? Check out the overview of my MillDoCo system.
---
Frequently asked.
What do you specialize in?

I specialize in marketing funnels, marketing strategy, copywriting, website redesign & development. I provide these services with the help of my small yet talented team around the world, along with a dependable maintenance package.
How much does a typical project cost?

Prices can vary depending on the size of your project. I handle projects for small to medium sized businesses. My minimum project cost is $2,500.
What kind of turn around do you offer?

A standard size project typically takes about 1-3 months to complete. I handle all of the work for you and communicate everything along the way to ensure you're happy with your outcome! I don't offer rush-job services that has only a week or lesser timelines.
Services I Offer.
Revamp Your Company's WordPress Website
Redesigning a lead / sale generating website (without ruining it) requires specialized knowledge and experience. Find out how I can minimize your risks.
Email Marketing Setup & Migrations
Looking to upgrade your email marketing system from Mailchimp to ConvertKit / InfusionSoft / ActiveCampaign or Drip?
Conversion Focused Marketing Funnels
Have you been spending on traffic that isn't generating qualified leads? We could turn it around with a well designed funnel, excellent copy-writing and personalized emails.
Thrive Themes Services
I started working with Thrive Architect since before it was called Thrive Page Builder! I specialize in redesigning your website using Thrive Themes Builder & Thrive Architect. Check out my Thrive themes services.
About Me
I'm Rajavanya Subramaniyan (Long for 'Raj')
I love online marketing. I love every part of this complex process. Everything from copywriting, understanding niches / audience, sales pages, funnels, designing layouts that convert and then A/B testing them.
Its so complex yet so beautiful when it all comes together.
A bit of background – I started my professional career at the age of 18 as a professional programmer for computer graphics and sorts. Then moved to become a game programmer and after having worked for years as lead programmer in mobile games, web and desktop software.
I decided to drop all of that and build a business to create online marketing solutions for clients. It combined all of my passions in one place – marketing, designing and programming.
Now I have a small team and we help create websites and marketing/sales funnels for online marketing based businesses. I craft high-converting landing pages, sales page design and high converting homepage design.
My podcast appearance
I appeared on a podcast episode with David Vogelpohl to discuss about modernizing a WordPress website without ruining sales.
David Vogelpohl is the VP of Web Strategy at WPEngine.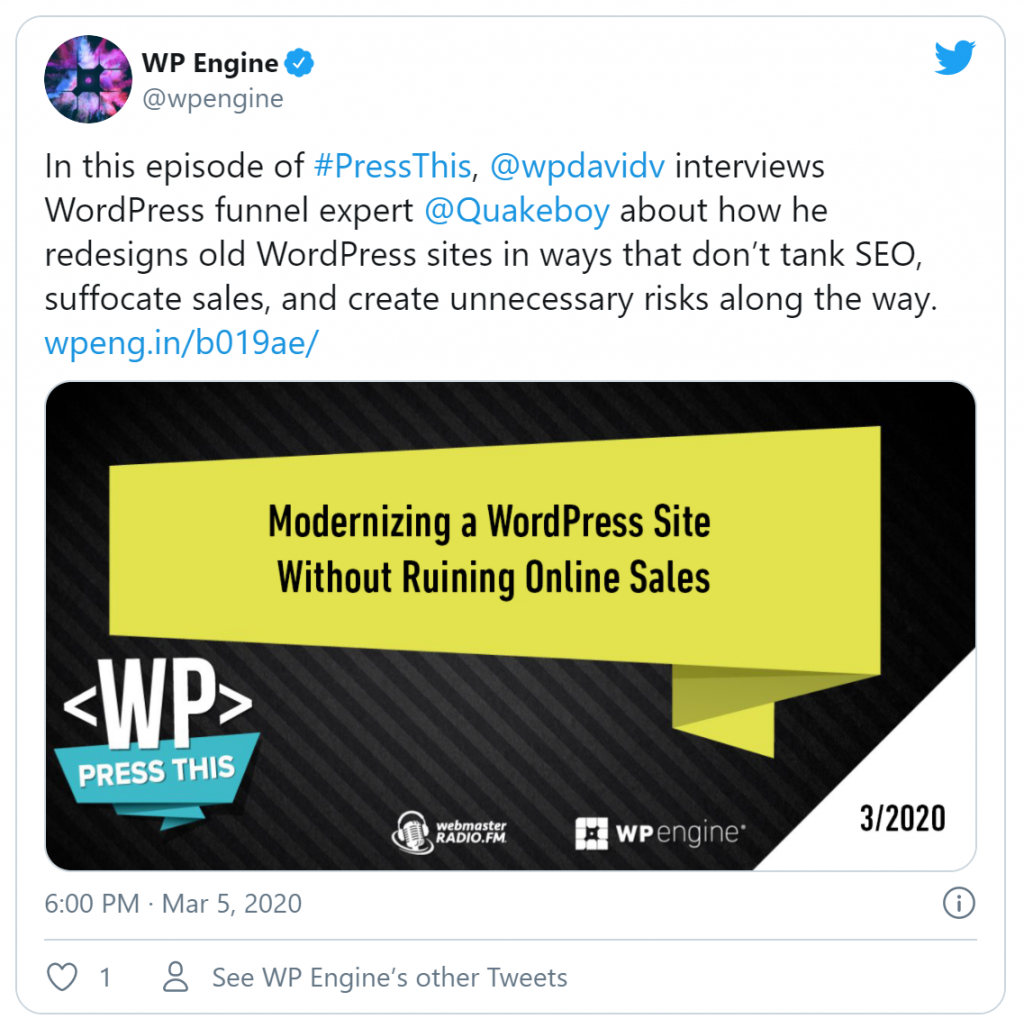 Yes, my twitter handle is @Quakeboy. I was a big time into video games when I was a student. Go ahead, have your laugh.