I help growing ISVs who feel stuck with their outdated website.
Was your website quickly 'hacked together' to launch your software products?
Does your website need a developer for even the smallest changes?
You started your website in the least expensive way. You ended with something that's cheap, feels like something that is hacked together. It was probably the right thing to do at that time.
But now your business is growing.
You want to be able to drive sales, you want to capture email addresses, you need to be able to setup a sales funnel with marketing automation.
But unfortunately your website has you stuck, you can't even update it yourself. It feels like you need a developer every time you want to make a small change.
It shouldn't really be that way.
It's time to upgrade.
I help my clients setup a easily manageable 'conversion-focused' WordPress website, that you and anyone on your team can update anytime you want to, without a developer.
I help you find opportunities to increase the volume of sales and quality of your leads and implement marketing automation that works even when you sleep.
Would you like to explore launching a modern website that's easy to update and drives more sales?
Contact me for a free 'no-obligation' consultation call.
---
Frequently asked.
What do you specialize in?

I specialize in email marketing based funnels, website redesign & development. I provide these services with the help of my small yet talented team around the world, along with a dependable maintenance package.
How much does a typical project cost?

Prices can vary depending on the size of your project. I handle projects for small to medium sized businesses. My minimum project cost is $5,000.
What kind of turn around do you offer?

A standard size project typically takes about 1-3 months to complete. I handle all of the work for you and communicate everything along the way to ensure you're happy with your outcome! I don't offer rush-job services that has only a week or lesser timelines.
Services I Offer.
Revamp Your Company's WordPress Website
Redesigning a lead / sale generating website (without ruining it) requires specialized knowledge and experience. Find out how I can minimize your risks.
Email Marketing Setup & Migrations
Looking to upgrade your email marketing system from Mailchimp to ConvertKit / InfusionSoft / ActiveCampaign or Drip?
Conversion Focused Marketing Funnels
Have you been spending on traffic that isn't generating qualified leads? We could turn it around with a well designed funnel, excellent copy-writing and personalized emails.
Thrive Themes Services
I started working with Thrive Architect since before it was called Thrive Page Builder! I specialize in redesigning your website using Thrive Themes Builder & Thrive Architect. Check out my Thrive themes services.
About Me
I'm Rajavanya Subramaniyan (Long for 'Raj')
I love online marketing. I love every part of this complex process. Everything from copywriting, understanding niches / audience, sales pages, funnels, designing layouts that convert and then A/B testing them.
Its so complex yet so beautiful when it all comes together.
A bit of background – I started my professional career at the age of 18 as a professional programmer for computer graphics and sorts. Then moved to become a game programmer and after having worked for years as lead programmer in mobile games, web and desktop software.
I decided to drop all of that and build a business to create online marketing solutions for clients. It combined all of my passions in one place – marketing, designing and programming.
Now I have a small team and we help create websites and marketing/sales funnels for online marketing based businesses. I craft high-converting landing pages, sales page design and high converting homepage design.
My podcast appearance
I appeared on a podcast episode with David Vogelpohl to discuss about modernizing a WordPress website without ruining sales.
David Vogelpohl is the VP of Web Strategy at WPEngine.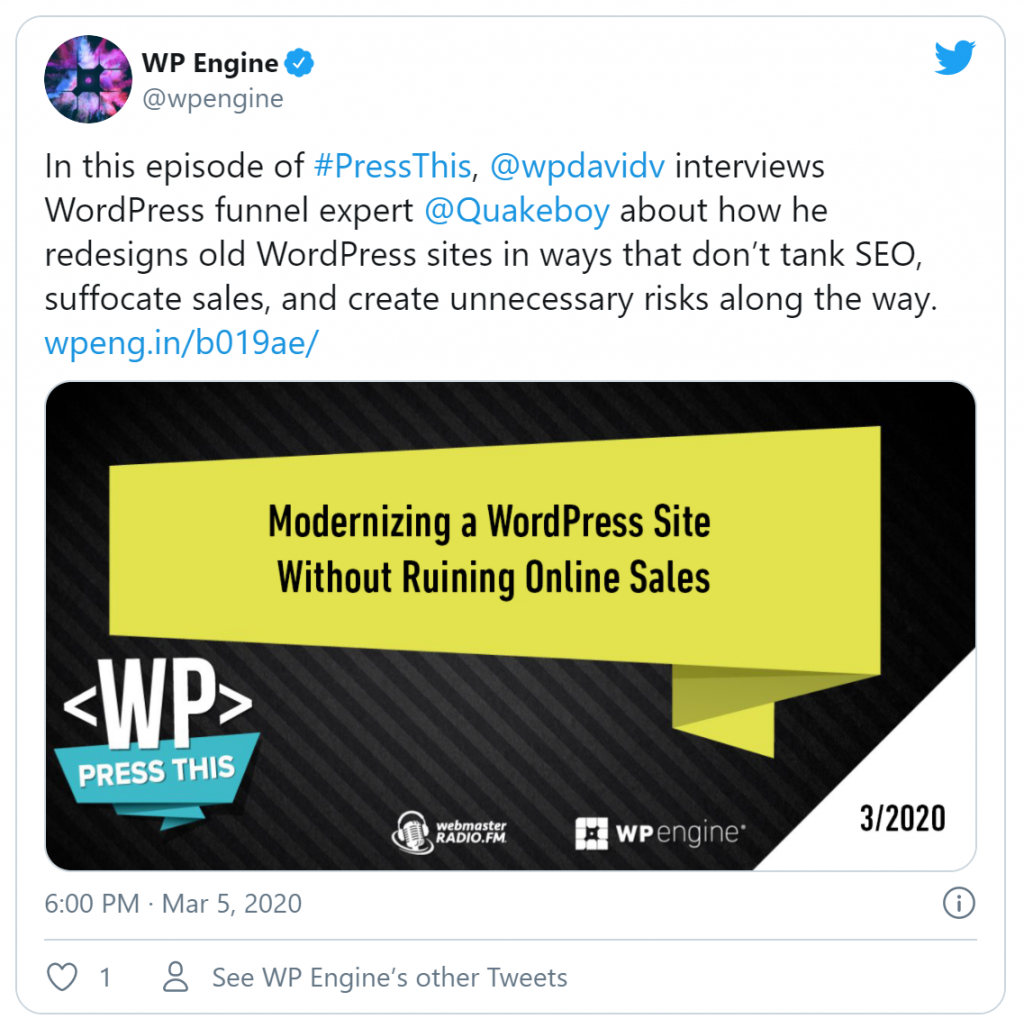 Yes, my twitter handle is @Quakeboy. I was a big time into video games when I was a student. Go ahead, have your laugh.