I'm going to present you 2 cases.
First one is for desktop and next is for mobile. 
Can you take a look at both these screenshots below?
(Clicking thumbnails will open in new tabs)
Desktop Variant 1
Desktop Variant 2
Mobile Variant 1
Mobile Variant 2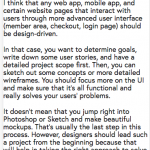 First, try reading the content.
What is the best variant for desktop?
What is the best variant for mobile?
Most importantly, why?
Reply with your answers and tomorrow I will explain
a) If you are right / wrong.
b) If and why, one is better than the other (with research evidence).