The Clear Idea is a company that builds high-end mobile showcases for premium brands. They also build few related solutions for events, festivals, roadshows, parades and PR stunts.
Looking at their stunning work, you know instantly they know how to customise big vehicles, transform the interiors to fit world-class brands and add the right accessories to make you stand out in such situations.
Lot of their work, received praise from people on social media. People loved posing with or posting images of their customised vehicles.
Background
The owner, Jonathan Bramley came from an interesting history – he worked along with his ex-business partner for years, but they NEVER experienced what successful online lead generation feels like.
They did have a premium looking website, but nobody filled their contact forms.
Every new lead / deal was from a previous relationship (or) it was word-of-mouth based. They had no predictability / control over finding new prospects or generating leads for his business.
He literally said – "It has always been feast or famine".
Sometimes they get a lot of business, and have crazy busy weeks or months, and then rest of the year they spend doing random activities hoping to find leads.
No one fills forms on the internet!
Even more crazy thing was when Jonathan mentioned that his ex-business partner believed – "No one fills forms on the internet!".
Needless to say, I was baffled when I heard this first. But over the years I've realised we often extrapolate others' experiences based on our experiences.
Jonathan on the other hand, while never tasted the results from the world of digital marketing, being the forward thinker that he is, knew deep down something was up.
He followed his hunch that led to something big that was hidden in plain sight.
He initially approached me for consulting on ways to find leads for a new offering that he wanted to create. Within a few minutes on the call, I explained him what the chances of success for such an endeavour would be.
I had told him what would be the type of engagement that has the highest probability of success – Finding new customers for one of his existing services.
I had advised him that the best use of his money would come from investing in a campaign for one of his existing services.
And then we kept in touch over messages.
Then, a few weeks later he contacted me saying this could be the right moment for us to work together.
Desired Results
One of their offerings' is making parade floats for world famous brands.
A float is a decorated platform, either built on a vehicle like a truck or towed behind one, which is a component of many festive parades, such as those of Carnival in Rio de Janeiro. [1]
And they wanted to try their first online lead generation campaign with this service. They had excellent case studies with stunning photos even a few related blog posts.
But most importantly they knew the following from experience
Exactly what type of clients they wanted to attract
What their clients desired and were motivated by
What results their clients wanted.
And what was it that they ideally wanted from this campaign?
They wanted to be fully booked for the 2019 London Pride Parade five to six months in advance (which was usually when these big brands started to prepare for)
They didn't want to work with companies who were looking to just make a token gesture at such events. They wanted to attract high-end clients who cared about and could afford their top-of-the-line parade float offerings.
Initial findings
At first I studied their existing traffic. They had just around 10-20 people visiting their website. I also googled for some relevant keywords and found that they're ranked on the first page for those terms. But none of those were particularly high-volume keywords.
I didn't have a lot of hope for generating leads from those.
But I always remember that
The most important thing to do was to test my assumptions.
Quantity and quality are two different things when it comes to traffic.
Process
After that we did a few fun, yet important workshop-type activities.
First was a long discovery session. We went over every detail of the type of clients they have worked with in the past for this particular offering.
We talked about their personality, the company structure, the decision makers and stakeholders within those organisations and also what is it that motivated them to invest in events like the London pride parade?
And we went ahead and had a really fun marketing role-playing session <lead magnet link> where Jonathan pretended to be some of his best clients and I pretended to be him.
Such sessions often can bring out the most important information that could make or break a marketing campaign.
From from my experience, these activities often go one of two ways – if the person opposite to me is a good natural sales person with high levels of empathy it flows beautifully and I extract valuable information that can help the campaign in a big way right then and there.
If not… we discover some key questions to which 'surprisingly' my clients realise that they don't have answers for. Even simple things like 'why had their clients invested money in their past projects?'.
And it becomes very obvious that they need to find the answers for those questions. I urge them to reach out to their past clients, schedule a call asking for their help.
Funnel Overview
To keep things lean, we started with the following
A lead generating landing page
A squeeze page that offers a valuable e-book in exchange for their email
A simple 9-page ebook in PDF form.
Finally, we linked the new landing page from relevant blog posts and pages that were already present on the website and receiving traffic from google.
The landing page was crafted to have two goals
A high risk primary call-to-action (schedule a call form) and
A low risk secondary call-to-action (download a valuable PDF guide / eBook)
Why eBook?
A few reasons
An eBook is a great form of packaging content that instantly feels valuable. Even today with unlimited content on social media, when your visitors download and open a well packaged eBook, it makes a professional impression and demands the reader's attention when done right.
It is a way to cut through the noise of social media, online content etc. It adds some amount of perceived value too. But it is effective only if the content of the eBook is already valuable for the potential customer.
It can be read offline which can be very useful for busy entrepreneurs or C-level executives.
Next for the hard part.
What should the eBook be about?
This is a question that haunts many people when they first start trying inbound marketing methods.
However I have a simple solution!
Simply list down every question, concern that your potential customers ask you when they get on a sales call.
It can be simple information that you know due to your experience in the industry. For this project, after a few ideas, we decided to go for the following title :
'How to Execute an Amazing Pride Parade 9 Things That Most Brands Forget'
Landing Pages
The copywriting tone & visual style was aimed to match
The high-end offering of their services
Yet align with the playful / cheeky vibe of the parade.
So we went for cocky funny language sprinkled throughout the page.
While the main website had a more serious, premium look, we felt this page could be portrayed with more personality to suit the type of parade float designs they created.
The client was okay with this direction. Therefore we designed the new funnel like a mini-site with the new look and feel & new voice / tone for the content.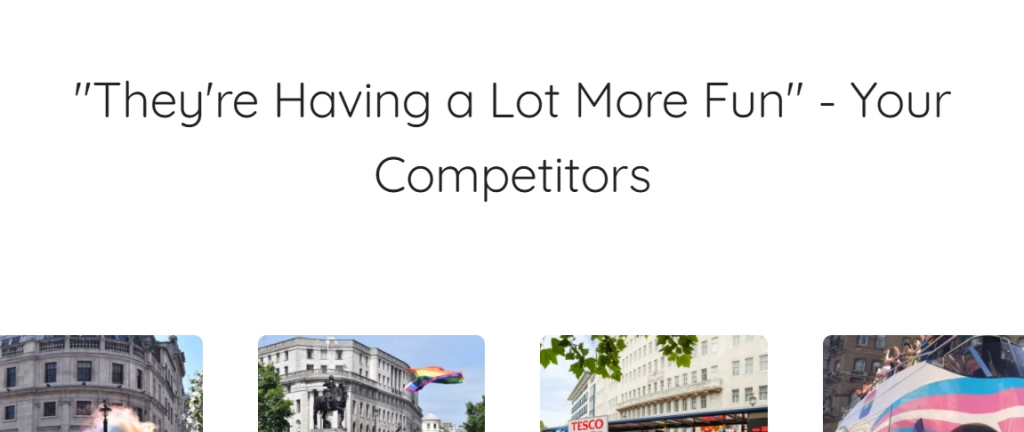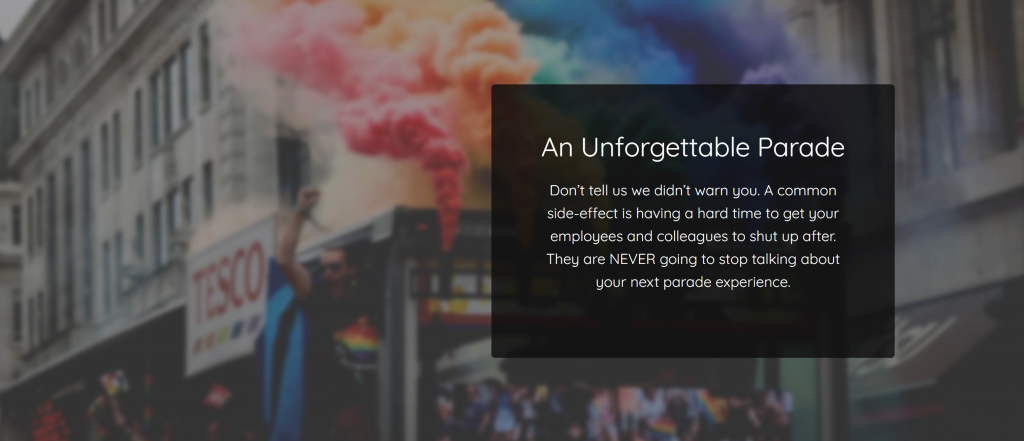 View landing page in full size
Results / Testimonial
Once we went live with the funnel, the leads started to pour to the connected Hubspot including numerous Fortune 500 brands. The client was surprised and elated from the results of their first online lead generation campaign.
Working with Raj is such a pleasure. Not only does he try to understand your problems he tries to understand the problems of your customers too. This inquisitive mindset leads to great results. We've worked together on a few projects now and I can honestly say he has over-delivered on every occasion. I look forward to working with him again soon and you should too.
Jonathan Bramley
Owner, The Clear Idea, UK.